In 2019, BlueSeeds ran a study to investigate whether it would be worth creating an online system to book moorings in Mediterranean MPAs. The results showed that most of the Mediterranean MPAs that had a moorings system in place to protect were losing more than 50% of the mooring fees they were due because they didn't have time to collect payment.
As such, MPAs are currently allocating considerable human and financial resources to a service that contributes little to their primary goal of ecosystem protection. Collecting fees during the tourist season is the most time-consuming activity the field teams carry out, and this when protected areas don't even have enough staff to carry out their conservation work adequately (Appleton et al., 2022).
Monitoring traffic to a marine protected area allows managers to assess the environmental impact of human activity on local ecosystems, and to regulate the flow of visitors.
A study in the Mediterranean by the MedPAN, the and the WWF found that, when asked what new management and support tools would help them most, managers considered monitoring ecological data and visitor numbers to be a priority (Le Berre et al., 2013).
Adequate mechanisms exist to calculate the number of visitors travelling to MPAs via land. However, those used to monitor the movements of recreational boats and sailing operators are currently expensive or imprecise. The wider the geographical scope of the MPA, the harder it is to monitor visitor traffic. The methods used most commonly – for example, taking an aerial photograph or manually counting the number of boats moored up – only provide a snapshot of numbers at a given moment.
While it is relatively easy for marine protected areas to communicate effectively with visitors who come on foot, it is harder to get information to recreational boaters arriving via mooring areas.
As they come by sea, these members of the public interact directly with marine ecosystems but they are often poorly informed about relevant regulations, seafaring codes of practice and appropriate behaviour at the site.
There is a further challenge. Marine protected area managers, who know the marine environment well, know how to explain the science of conservation to groups who are aware of and receptive to the issues (fishers, local community members, etc.). However, some of them can face difficulties when engaging with people who have limited understanding of conservation work, even though such engagement is necessary to ensure visitors behave appropriately.
BlueMooring: an easily replicable mooring management solution
In 2021, BlueSeeds launched BlueMooring, a web app that allows marine protected area managers to manage their mooring areas, collect mooring fees and communicate with visitors more easily and efficiently.
The tool is linked to a platform which allows recreational boaters and ecotourism professionals (such as diving clubs) to book a mooring in a few clicks, either in advance or by scanning a QR code attached to the relevant buoy.
BlueMooring is suitable for use in any mooring area and requires no additional infrastructure.13210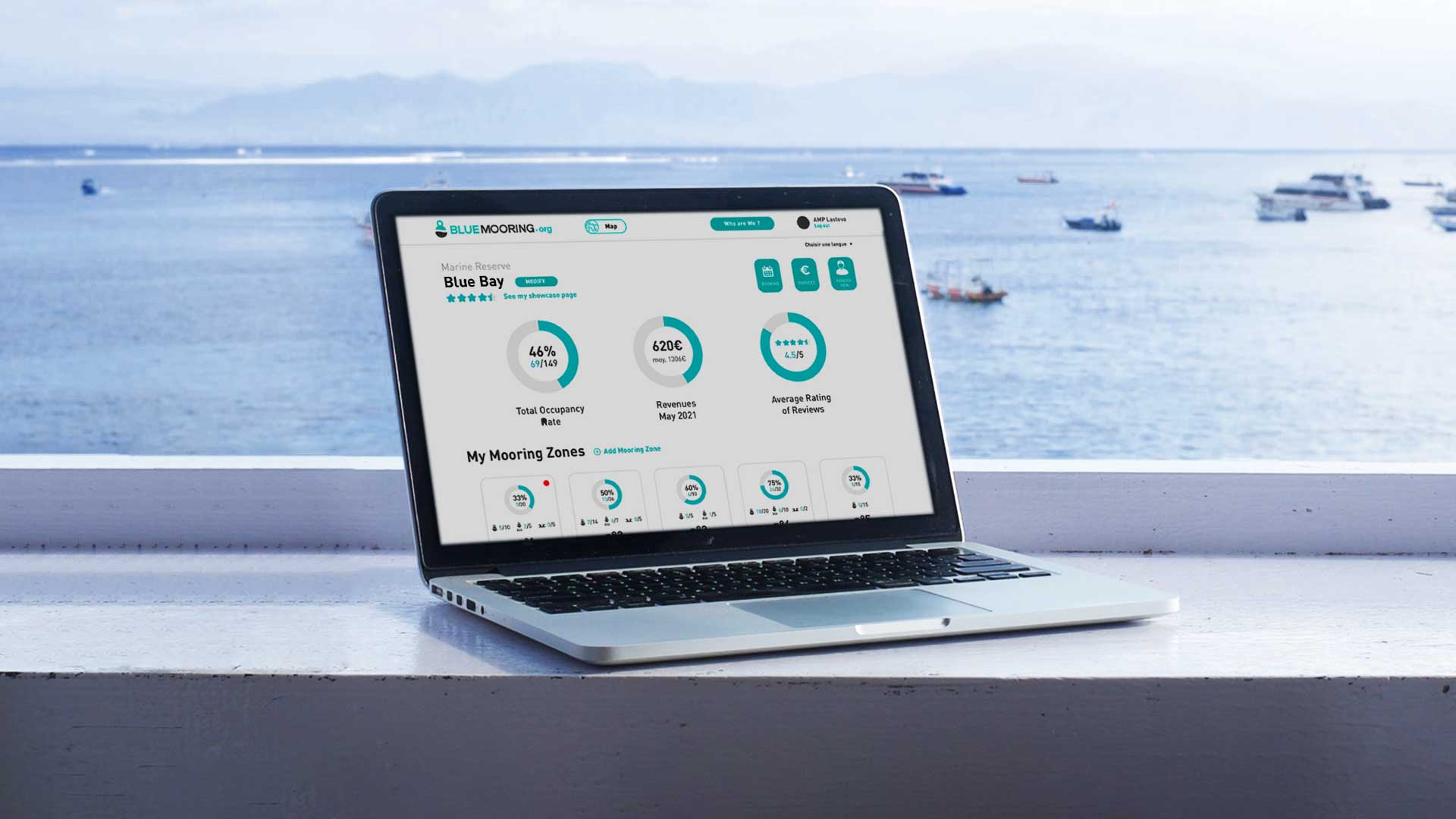 Solutions provided by BlueMooring
Monitoring and reporting
Making it easier to collect mooring data
Using the BlueMooring web app's dashboard, marine protected area managers can monitor in real time how their mooring areas are being used as well as accessing historical visitor data. The tool also makes it easy to send reports to the authorities responsible for marine protected areas.
In addition to monitoring changes in traffic to their site and correlating environmental changes with recreational activities, managers can use BlueMooring to plan potential adaptations to their mooring infrastructure.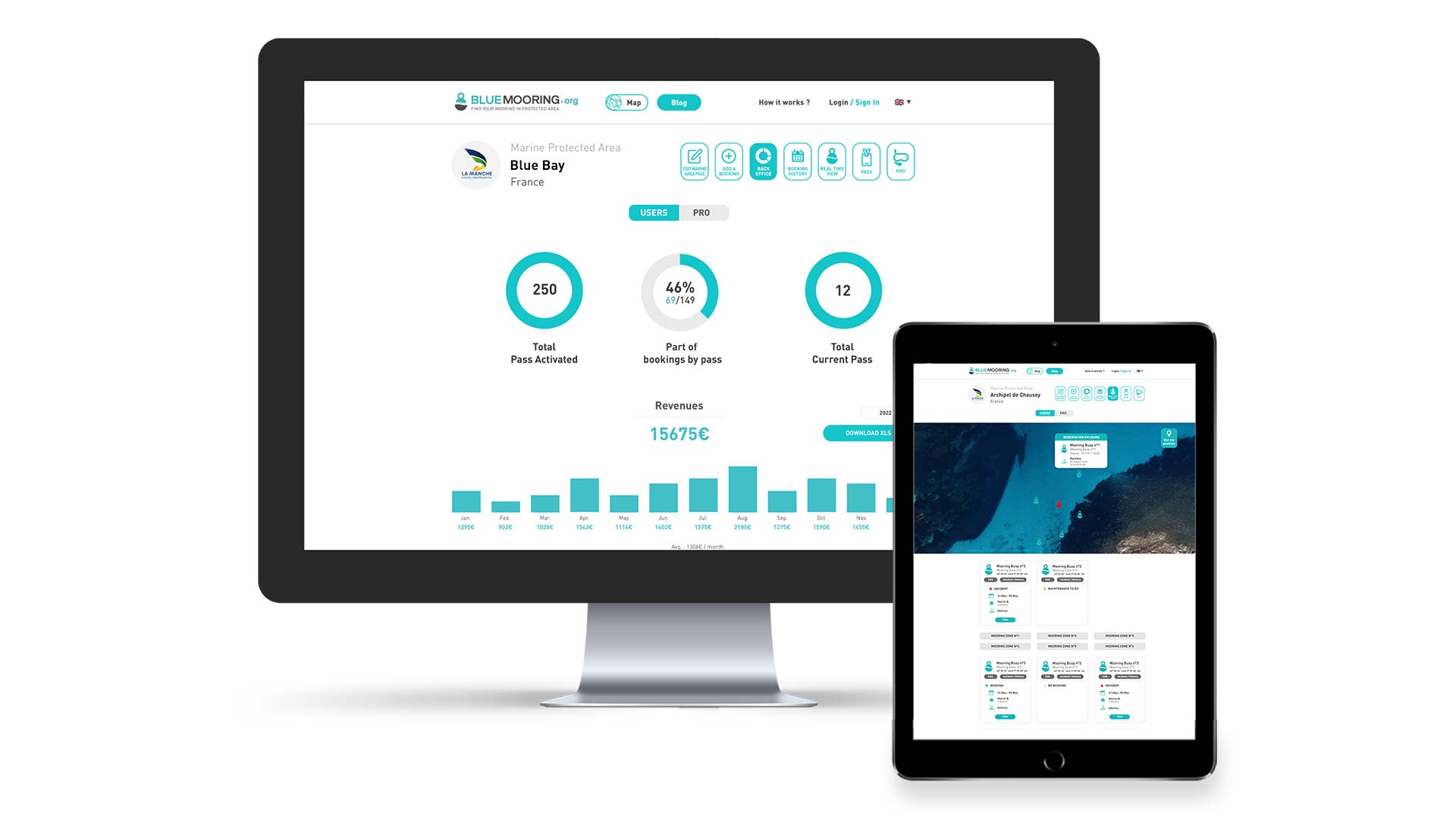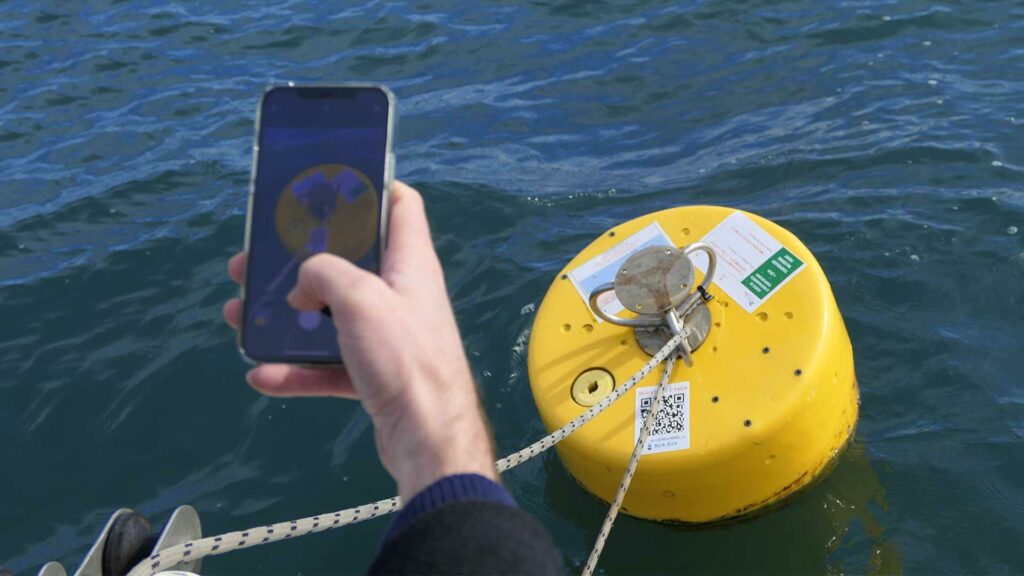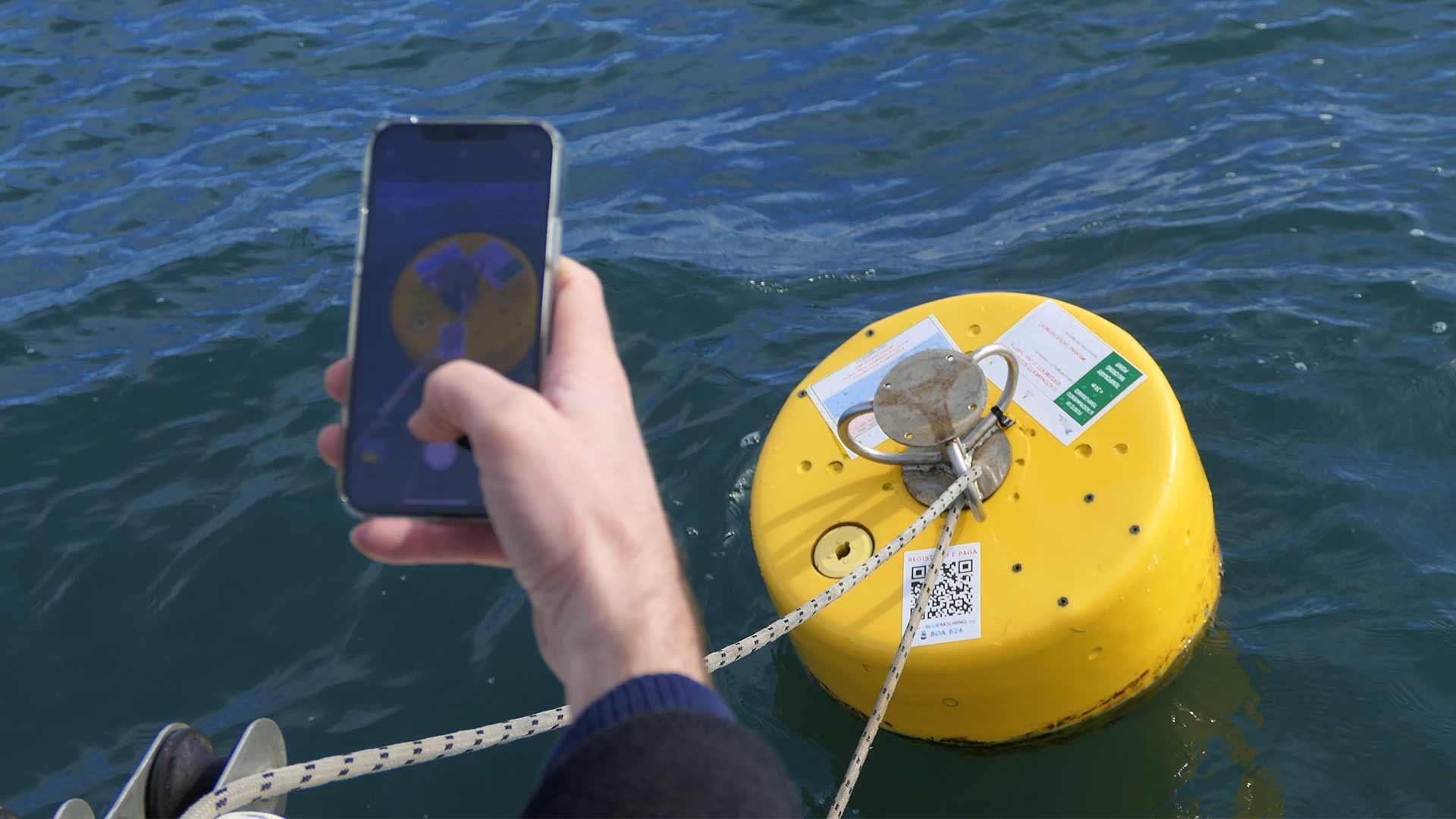 Effective management
Giving more time and money to activities that count
BlueMooring automatically collects data and, where applicable, mooring fee payments, and allows teams to manage the mooring bookings made by recreational boaters separately from those made by ecotourism operators.
In this way, MPA managers using BlueMooring can drastically reduce the time their field workers spend managing moorings and conflicts of use.
They can reallocate the time saved to activities that will improve the MPA's effectiveness, such as surveillance or public education initiatives.
Communication
Raising awareness among and communicating with recreational boaters
BlueMooring allows MPA managers to create a showcase webpage for their site. It provides them with a new point of contact with recreational boaters , who might not see the communication materials promoted on land.
Managers can use this 'shopfront' to inform boaters about relevant regulations and raise their awareness of local conservation activities.
In addition, ecotourism operators such as diving clubs can make use of a dedicated area on the platform to pass on any field observations they make directly to the area manager. In doing so, they will be contributing to a bank of scientific knowledge that is crucial to MPA management.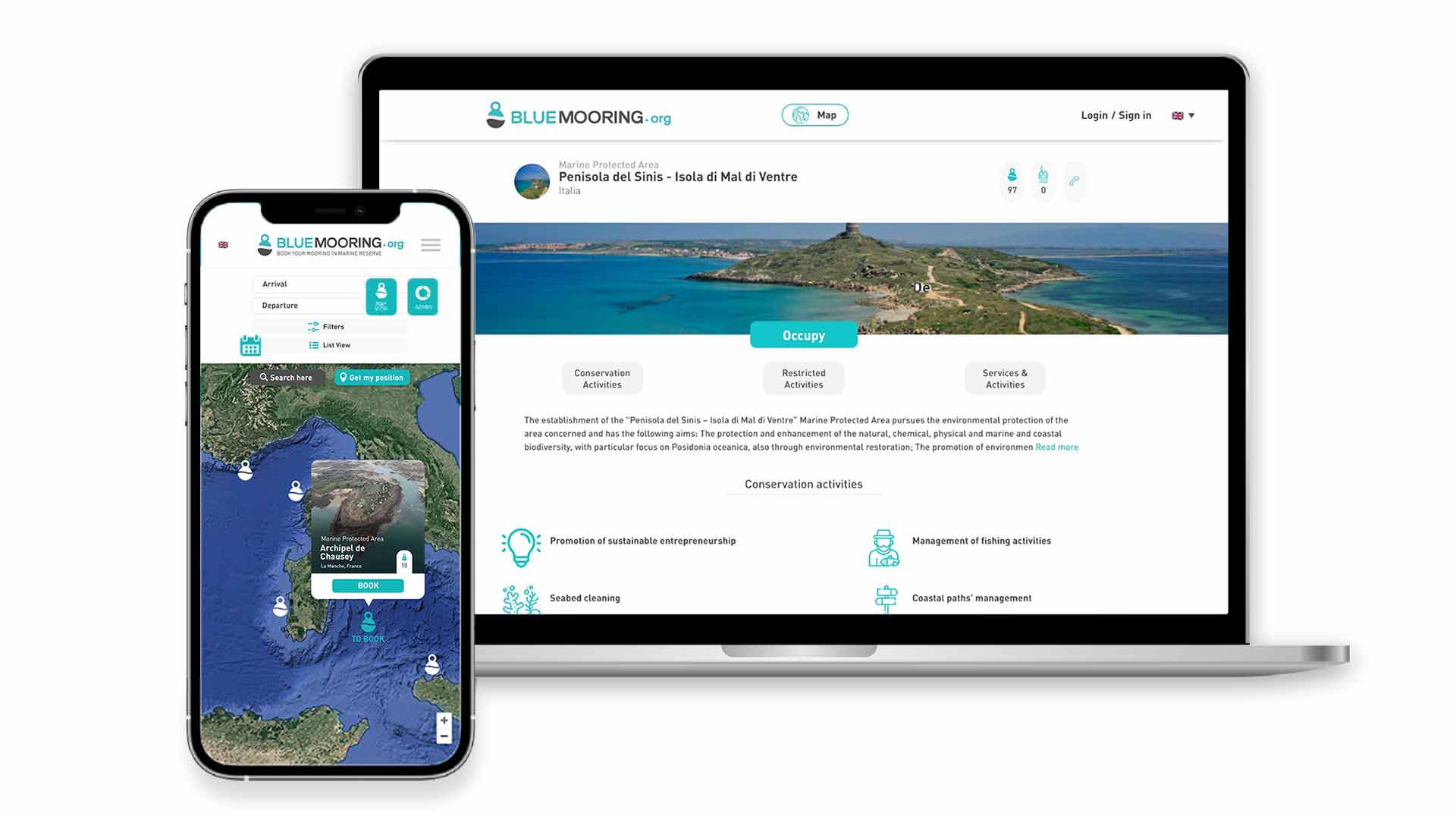 They manage their mooring areas with BlueMooring
We are very satisfied with this initiative and to be in some way a reference also for other Mediterranean MPAs. For some years now, the Sinis Marine Area has embarked on a path towards simplification and innovation, trying to meet the demand of boaters and putting their suggestions into practice. Online payment was a lack that we solved already in 2021 but with this new platform we are making an important qualitative step.This initiative anticipates the line that the Ministry of Ecological Transition itself has drawn for MPAs within the PNRR, pushing towards an ever-greater digitalization of protected area.